3 Things We Noticed: FC Bayern – FC Augsburg 6-0 (2-0)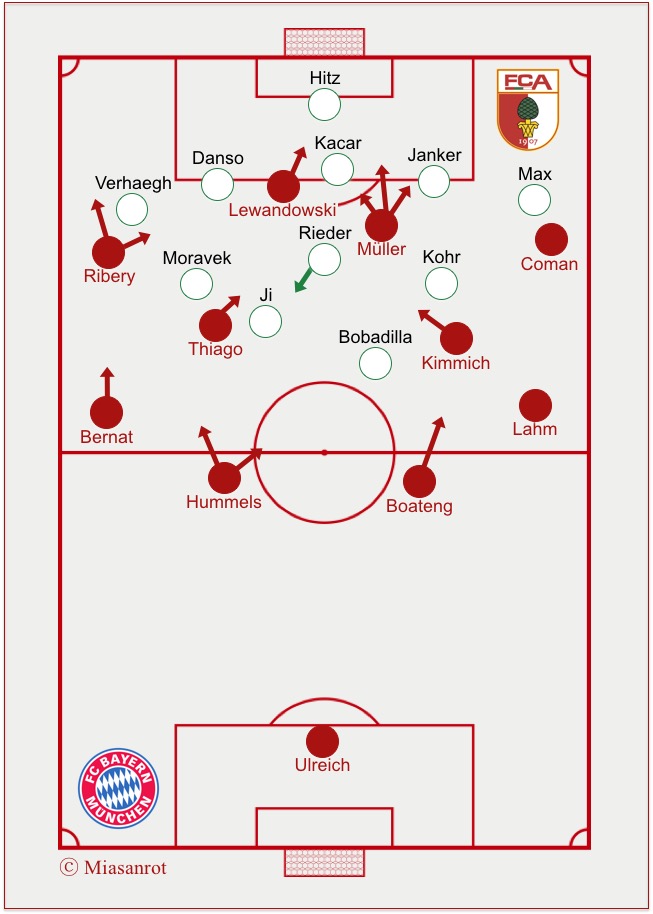 #FCBFCA – starting formations: 4-3-3 vs. 3-5-2
3 Things we noticed
1. Thiago
FC Bayern started well into the game in the first 15 minutes, but they struggled to create clear scoring situations. It needed a world class pass by Thiago as a game changer. We have praised Thiago a couple of times before, but his importance for this team is remarkable. In Bayern's simplified tactical approach this season he has one main task, to connect defence, midfield and attack. He makes it look like each attack follows predestined road.
The 4-0 was the cherry on top of a great Performance. Thiago also played 117 passes, one assist, two key passes and defensively six interceptions. All that within 65 minutes. FC Bayern is well advised to hand Thiago a contract to his demands, he's that good currently.
2. Ribery & Coman
Both french wingers didn't get too much chalk on their boots, but repeatedly moved inside. This created open space for the full-backs Bernat and Lahm. Müller and Lewandowski also often moved to the sides and thus a very fluid formation was created and Augsburg's back-three / back-five had a hard time to adapt. Coman and Ribery were involved in the first three goals, with actions from the half-spaces and thus creating space for the other Bayern players to make the assist. The 3-0 was directly assisted by Ribery.
In the end Ribery had three successfull dribblings and played five key passes. Coman had two successfull Dribblings and one kay pass.
3. Rotation gone right
FC Bayern face 9 games in April. Pretty much a game every three days. Plus all the time on the road which will put extra strain on the players. Ancelotti will have an extra eye on the management of fresh legs. The game against Augsburg was a start into this phase. Vidal Alaba, and Robben were rested, since they had a lot of minutes from international duties in their legs. Hummels and Thiago were substituted early.
It was interesting to see how little effect the rotation had on the performance level. The XI on the pitch was in sync. No Bundesliga blues was visible, which Bayern often had in the spring in the last seasons. The next challenges against Hoffenheim and Dortmund will show, whether Bayern can keep this rhythm.
FC Bayern – FC Augsburg 6-0 (2-0)
FC Bayern
Ulreich – Lahm, J. Boateng, Hummels (72. Rafinha), Juan Bernat – Kimmich, Thiago (65. Renato Sanches) – Coman (62. Robben), T. Müller, F. Ribery – Lewandowski
Bench
Starke – Alaba, Fe. Götze, Vidal
FC Augsburg
Hitz – Danso, Kacar, Janker – Verhaegh (80. Schmid), Rieder, Kohr, Max – Moravek (46. Teigl) – Bobadilla (46. Halil Altintop), Ji
Bench
Luthe – Leitner, Usami, Finnbogason
Goals
1-0 Lewandowski (17.), 2-0 T. Müller (36.), 3-0 Lewandowski (55.), 4-0 Thiago (62.), 5-0 Lewandowski (79.), 6-0 T. Müller (80.)
Cards
Yellow: – / Kohr, Janker
Referee
Christian Dingert (Lebecksmühle)
Attendance
75,000 (sold out)