Bayern Women move into Champions League spot against Potsdam
After a horrible 2015/2016 season things have improved a lot with a new manager. From the 2nd until the 12th game day Turbine were leading the league. Bayern couldn't continue in the same vein after two championships and were chasing them, while Wolfsburg and Potsdam were battling it out for first place. On the 13th game day Wolfsburg became leaders after being only 5th in the table at one point. On the 14th game day Potsdam regained first position and were overtaken again on the 16th game day by Wolfsburg, who were then crowned champions last weekend.
With the win in Potsdam FC Bayern have made it possible to secure participation for the Champions League in the last fixture. Without victory against Potsdam it would've all been over already. In nearly every big game of the current season Bayern failed to come out on top. Partially injures from starters hurt the team, but you can't solely blame it on that.
Other teams were better this year and it wouldn't have surprised anyone if Potsdam would've secured the Champions League ticket with a home win after having won three points in Munich in winter. However, Potsdam couldn't maintain their phenomenal form to become champions. Second place is still very much possible for Potsdam and Bayern aren't safe, yet. The last game will decide.
In case you missed it
Both teams won their mid-week away fixtures and Potsdam manager Matthias Rudolph hardly rotated the starting eleven.
Potsdam vs. Bayern, starting formations
Sarah Zadrazil came in for Elise Kellond-Knight. Tom Wörle gave Vanessa Bürki, Anna Gerhardt and Lisa Evans a start against Gladbach. This time the usual starting eleven of the past weeks was fielded apart from Fridolina Rolfö playing left attacking midfielder instead of Katharina Baunach.
Melanie Behringer immediately got a jump start for Bayern. Potsdam were sloppy going forward and through sheer fortitude Behringer created a lot of space for herself in the right half-space surprising friend and opponent with a direct finish Lisa Schmitz should've saved, but instead had to collect the ball from the back of the net. A big blow for the home team.
In the following half an hour both teams tackled each other at the half-way line without getting any noteworthy attacks or passing sequences on the pitch. Not enough flow to the game and too much will of the opponent to mark tightly and prevent any creativity.
Melanie Behringer Scores Goal to put Bayern München 1 up. Video: rbb Fernsehen, #AFBL #FrauenBundesliga #womensfootball #DieBayern #TPFCB pic.twitter.com/7lHRLTaCQk

— WomensSoccerUnited (@WSUasa) 14. Mai 2017
And somehow Bayern were able to raise the score line to 0-3 before half-time. One doesn't get around attesting Potsdam a certain degree of doziness. On the second goal Bayern's high press and passing in tight spaces paid off. On the third goal Bayern showed with their counter, that spacing and dynamic are more important than the number of players in a certain area.
In the second half both teams picked up the pace and contrary to the first 45 minutes Potsdam got into dangerous positions without reward, however. In the final minutes Bayern scored a fourth goal but the game was long over already.
🇩🇪 With one match to go Bayern is now in the drivers seat for a #UWCL birth after a 4 – 0 beat down of Potsdam. @VivianneMiedema goal. #AFBL pic.twitter.com/UgIHTrVyNX

— WoSo Comps (@WoSoComps) 16. Mai 2017
3 things, we noticed
1. Beautiful Ferrari but there's a speed limit here
Defensively Bayern didn't take any risks. They retreated early into their five at the back formation in front of Zinsberger. Gina Lewandowski and Leonie Maier only made a select few runs down the line into the opposition half. In the centre in front of the defence Behringer and Däbritz were covering. Thus Potsdam could rarely switch the play through the centre. While they had a lot of freedom in the build-up and could move the ball to the other wing with a back pass, Bayern's attackers were positioned well and aggressively defended which slowed down the tempo.
As a result, Potsdam were nearly completely robbed of their biggest strength – their pace. No one fancies going into a sprint duel against Svenja Huth, Jennifer Cramer or Tabea Kemme. In the shopping area which Bayern created in their own third Potsdam didn't really have a chance other than shoving passerby at walking speed.
Especially when security boss Carina Wenninger, while playing some type of libero role, possess the freedom and determination to assign supervision to the half-defenders to guide troublemakers out of the exit, it's over.
2. Central focus and one-touch football going forward
Bayern's wingers were focused on defending and Rolfö and Rolser were positioning themselves in the half-spaces, Bayern orphaned the wings and looked for overloads in the centre.
Lebzygold about "The Importance of the Halfspace"
In the middle there wasn't much space and time on the ball, but two strategies guided Bayern to success: First of all they played at a fast pace. They weren't unnecessarily long on the ball, instead they passed it to their teammate with the first touch, so Potsdam had to chase after the ball a lot. Secondly, the Reds created numerical superiority close to the ball. When Potsdam patiently moved the ball forward, they sat deep and well-spaced. In possession or in pressing phases Munich moved up as a collective, surrounded Potsdam players and regained the ball after they lost it in a dribble or a clearance.
Significant how far left half-defender Schnaderbeck – and the whole defence – moved up ahead of the 0-2. Despite being in a worse position to get the ball she got a foot to it and passed it to Rolfö. With a bit of luck Rolfö's shot, whilst being fouled, deflected of Däbritz to Miedema. The Dutch goal-getter attracted all of the attention so close to the box just to set up Däbritz. Five stages in fifteen metres of space, all passes in the centre went directly forward. Potsdam were ball watching, all players did the same instead of assigning different tasks to each other. No one covered Bayern's options and therefore Däbritz had the opportunity to showcase her class in front of goal.
Furthermore, Bayern were more determined to win tackles and even when they were outnumbered they had the upper hand. A lot of 50-50 balls Potsdam nearly already recovered, remained with Bayern. Behringer's tackle ahead of the 0-1 or Miedema's perseverance against Wälti and Schmidt ahead of the Rolser's 0-3 are exemplary for that.
There, Schmidt had the option to shoot from distance or play through the strikers with a chip over the defensive line. Instead she caught Wälti off guard with a back pass, Rolser intercepted it and occupied the central space to the goal. Miedema got stuck against Wälti and although Schmidt came over to help Wälti, Miedema managed to get the pass through to Rolfö in the left half-space.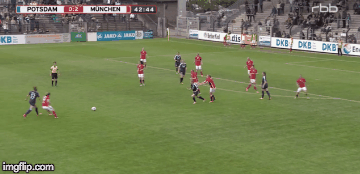 What the Swede then pulled off is simply outstanding. Despite having the chance to directly sprint towards the goal, she decelerated and sacrificed superiority, because Potsdam were able to chase back but Rolfö drew all Potsdam players towards herself, just to perfectly set up Rolser. This counter-attack was a zig-zag train through the centre and despite Rolser nearly touching the ball too late, Potsdam weren't able to stop the train.
3. Potsdam with asymmetrical 4-4-2 and a special role for Bianca Schmidt
Potsdam seemed to change between a back three and a back four. This happened, because their 4-4-2 appeared to turn clockwise time and time again. Bochum tried something similar against Bayern in the cup once – with a 4-2-3-1, however – as TW from Spielverlagerung assessed back then.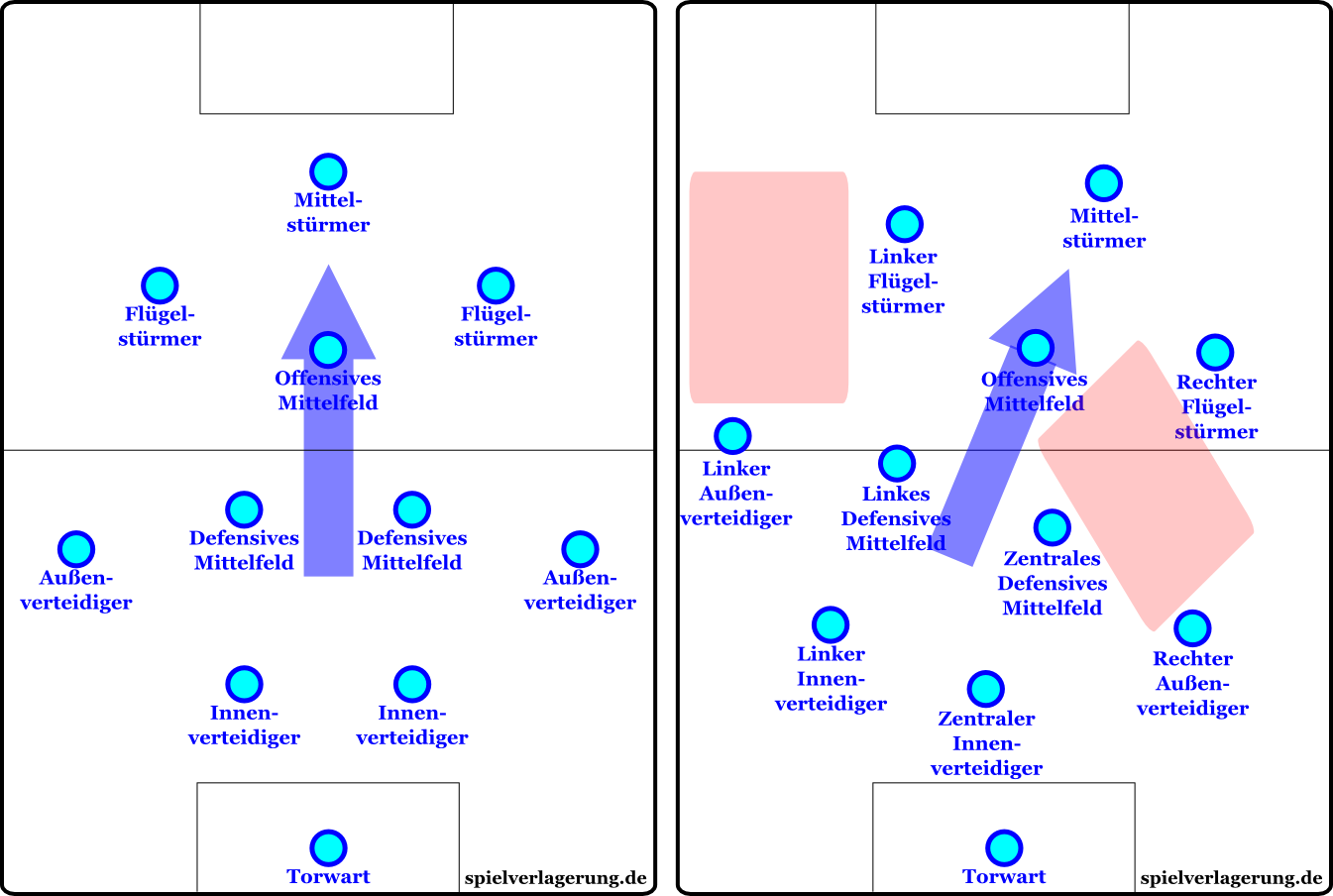 TW in Spielverlagerung.de
Hence, Bianca Schmidt had a free role on the right. She either supported the central defence as the right half-defender or she played as a full-back. Her role was even more intriguing than the switching between those two positions. Often she pushed into the right half-space as a full-back in the asymmetrical 4-4-2, where Felicitas Rauch played much more attacking than Cramer on the other side. Cramer dropped deeper than Schmidt and Schmidt supported Potsdam's midfield in the zones between Lewandowski and Munich's double pivot (Behringer/Däbritz).
That Potsdam fielded two strikers against the back three of Bayern was actually the right approach. However, Kemme took herself out of the game. She had to hold the high position close to the opposition defensive line and much like Svenja Huth, had to hope for a pass – they didn't come, though. In midfield Potsdam would've needed a second Lia Wälti who could get the forwards involved with her creativity and passing. Schmidt could've played that role looking at the spacing. That's not her profile, mind. She possesses the athleticism for those long runs, but not the playfulness of a playmaker. Maybe her mistake ahead of the Rolser goal is tarnishing that impression.
Overall it looked like Potsdam used up more energy in the mid-week fixture and Bayern seemed to be on alert in the decisive situations.
This means securing Champions League football in the home game against Essen. Kick off is on Sunday, the 21st of May at 2 p.m. in the Hermann-Gerland-Kampfbahn at the Gründwalder Straße. Without having to rely on Potsdam's result in Duisburg (in their first meeting Potsdam spanked Duisburg 8-0) a win is a must. We have a final!
Turbine Potsdam – FC Bayern
Potsdam
Schmitz – Siems, Elsig, Wesely, Schmidt – Rauch (63. Prašnikar), Wälti, Zadrazil (72. Kellond-Knight), Cramer (46. Aigbogun)- Kemme, Huth
Bayern
Zinsberger – Schnaderbeck, Wenninger, Abbé – Lewandowski, Behringer (68. Leupolz), Däbritz, Maier – Rolfö (72. Bürki), Miedema, Rolser (81. Gerhardt)
Bench
Weimar, Leupolz, Gerhardt, Bürki, Baunach, Holstad
Goals
0-1 Behringer (2.), 0-2 Däbritz (35.), 0-3 Rolser (44.), 0-4 Miedema (79.)
Cards
Elsig (75.) / Lewandowski (22.), Behringer (28.)
Referees
Marina Wozniak (Herne), Svenja Pleuß (Schwarme), Vanessa Arlt (Greven), Miriam Schweinefuß (Rieder)
Attendance
3,421