Welcome to the second edition of the Miasanrot mailbag. This feature allows you to ask whatever Bayern-related question is on your mind and have it answered by our local lunatic. If you want to see your question answered in the next edition, either send it to us in a tweet @miasanrot_com, using the hashtag #MSRmail or, if you don't believe in that Twitter voodoo, just leave us a comment down below.
Youth Center
"Any news on the upcoming youth centre at Ingolstädter Straße?" – Sidharth Bhakth
Since you've asked, SZ have published a highly informative article here (in German). Is it a good idea? Sure thing. I assume it's gonna be state of the art and that's what Bayern should aim for. Quick summary in case you don't speak German or Google Translate is useless:
they've just started building
it's gonna cost €50-60m
8 football pitches and other features (such as a basketball court and a beach soccer place)
includes a school, restaurant and fan shop
not to be used by the basketball teams
planned to be ready in 2017
Allianz Arena
"Never heard your opinion on the Allianz Arena? Would love to know." – Utsav Garg
Amazing and unique appearance from the outside, not a bad seat inside (as far as I'm aware of). The walking area could be a lot more attractive in my opinion, it feels more like a parking lot. Having some TV screens there is a step forward but it's so dull. This might be related to the old issue having to share the stadium with 1860 – imagine having that area kept in a Bayern theme and then red seats inside. Now it feels like a stadium for Bayern to use, those few visual tweaks could turn it into Bayern's home.
The atmosphere? Rather lame. It can be so frustrating to see/hear 80% of the audience not react to anything and every now and then it's similarly disappointing when the ultras sing their songs on a ten-minute loop without anyone else engaging. You can't blame either group but a balance would make the experience so much better. Just my personal opinion, obviously.
More Spain?
"Which Atletico Madrid and which Spanish player would you like to see at Bayern in the coming years and why?" – Utsav Garg
Such a specific question. I hardly ever watch Atletico, picking someone like Griezmann or Koke would be lame (and unrealistic, with an emphasis on "real"). Gonna pass here for now.
Spanish players? Lately there's been a bit of thirst for Dani Carvajal in the Bayern universe. Considering the age of Lahm and Rafinha, I wouldn't be opposed to that. Nolito might be the flavor of the month. How about this: no new Spanish players but we manage to keep the coach. Deal?
Javi, por favor
I assume Guardiola will use Javi in the way he's wanted to use him for two years now: as a cornerstone in defense.
Rotation and flexibility will give everyone opportunities to play (and someone will get injured again anyway) but Martinez is expected to be a key part, especially in a back-three. Giving him that central position in a back-three would combine his defensive abilities with the good short passing. Javi's range leaves a bit to be desired but, as long as he keeps the ball on the ground, his buildup is more than useful. He can cut through opposing lines like Boateng, just that they're cannon balls instead of lasers.
In Guardiola's first season, we heard many voices claiming that he's not a fan of Martinez and that the player is wasted and misused at center back. Those voices have mostly gone quiet. Theory #1 has been disproved heavily, as Martinez was a key figure in Guardiola's initial plans and never really fit since 2013. Theory #2 is silenced more and more, as well. It took him some time to learn the position but he's there. And, as long as he stays fit, he'll be important. Very important.
Sauce Bernat
My view on Bernat isn't a positive one at this point. Big struggles in season two.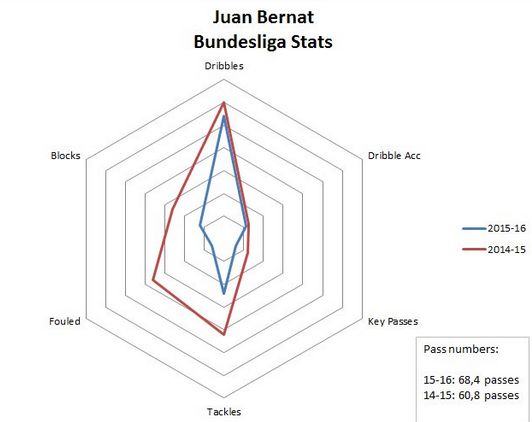 He's playing worse and we can all see it. Some of those struggles are caused by tactical differences but a lot of it is just down to him. Bernat appaers to be mentally blocked, which isn't an alarming thing for such a young player but something that has to be worked on. He plays a lot more conservative, choosing the safe pass instead of bombing forward like he did in 2014. That being said, I'm sure he'll get out of the slump and improve again.
Unfortunately for him, he won't be a regular even in improved shape, assuming that everybody is fit and available. When trying to determine if someone has the potential to be a regular, ask yourself one question: which internationally acclaimed player would you bench for this man?
My answer for Juan Bernat: nobody. Alaba, Robben, Ribery, Costa…you'd prefer all of those. He's your man for that gruesome away match in Augsburg that's sandwiched between two important cup matches. Which is a great accomplishment in itself and light years away from Diego Contento.
Coach's corner
In order to determine my favorite coach, I need to look at all coaches I can judge.
Trapattoni I can't judge, I was too young and uninvolved to be truly familiar with his work in Bavaria. So we start with Ottmar Hitzfeld. He felt right. Hitzfeld was one of those "Bayern faces" in that Kahn/Scholl/Lizarazu-era. Unfortunately, hindsight has darkened my opinion on him a little. Even if we choose to ignore his recent statements (that could make you question football brain altogether), his teams were kind of underwhelming. They delivered when it mattered and sometimes impressed (usually when Giovane Elber and/or Paulo Sergio decided to dominate Real Madrid or Manchester United) but his teams were cautious and overly dependent on Oliver Kahn.
Felix Magath? Bah. For two years, he did exactly what he had to do to avoid any criticism. Then it naturally fell apart, as his coaching style is not sustainable. Won't even discuss him.
Jürgen Klinsmann I still feel a little sorry for. Sacking him was the right decision as his team was pure chaos but he was an admirable figure in so many other ways. Klinsmann attempted to break up the old boy's club, radically modernizing Bayern after decades of relying on the same ideas. Back then, we fans struggled to understand it. After all, he was trying to change a proven "recipe for success". Now I feel safe to say, it was about time. If only he had chosen a different assistant coach.
Louis van Gaal is like your childhood friend that you don't want to meet anymore. You're really grateful for what he did, he influenced you positively but he's also kind of a loose cannon. Van Gaal finally gave the club a tactical identity (and in my opinion was the key figure in creating an interest in tactical thinking in Germany) but he was stubborn and, although he tries to deny it, a bit of a dictator. That man is less flexible than Daniel van Buyten at a yoga class.
Jupp Heynckes has a safe place in my heart. He was what the doctor ordered after the internal and external chaos caused by Klinsmann and van Gaal. He tweaked the style, removing the Dutch shackles, making the team more flexible. A lot of things went right for him so he's seen as this larger-than-life figure by many, something that he wasn't. He chose the perfect moment to retire.
Pep Guardiola's final judgement is still a few months/years away but there are certain things in his person and his work that I appreciate. Ridden with self-doubts, poisoned by the idea of perfection, he's obsessed with improving the team. He's given the team the absolute maximum of tactical flexibility. There isn't a more flexible team in football now and I'm not sure if there ever was. That's his legacy. Now it's up to him, the players and finally some luck to crown that.
Yes, I tried to avoid answering this. I have a tendency…
Transfer Threesome
Let's start with selling. I'd let go of Rafinha because of his limited peak, I'd let go of Jan Kirchhoff because he won't ever achieve anything at this club and I'd let go of Sven Ulreich because I just can't trust him.
Signing? My first choice is Messi. Obviously. I'll avoid Barca players for the other two selections, as you'd be bored by me choosing Busquets as well.
We need a right-back soon enough. Football lacks good ones. Seamus Coleman is already 27 years old for some reason, Nathaniel Clyne isn't proven yet. My personal choice boils down to Dani Carvajal or Serge Aurier. The age gap is minimal, the experience gap is significant. Let's go with the Spanish boy.
The third one? Eden Hazard, Nemanja Matic, Paul Pogba. You choose one, they're all different types. Keeping the other two fantasy signings in mind, I'd go with Matic. So we'd end up with that fantasy lineup, a highly flexible 4-1-1-4.
Sweaty Neuer?
His passing accuracy is way too high for that team.
In all seriousness: without trying to belittle Manuel Neuer or his fabulous skills, there's a lot more to being a reliable outfield player than anticipation from deep spaces and a decent passing range. Give him a shot in the third division, that might work out. Or in a meaningless Bundesliga match to mock the league, they already hate Bayern anyway.
Spooky standard
Let's use math here.
4-4-2 = -2
So the Bundesliga's death is at minus two.